Posted by admin in : Apple, Local News and Events , add a comment
By Marc Saltzman | Digital Crave – Tue, Nov 12, 2013 2:08 PM EST
If you thought your new office looked ultra-modern, wait until you get a peek at Apple's next campus in Cupertino, California.
Dubbed the "Mothership" by Cupertino Mayor Gilbert Wong, Apple has submitted architectural renderings of a 2.8 million square foot campus — built on 176 acres of land – and capable of housing roughly 13,000 employees.
It is said to be built by 2016 with an estimated budget of $5 billion.
While initially presented to the city in 2011 by late Apple CEO Steve Jobs, Wired has just published updated information and renderings of "Apple Campus 2," approved by city officials last month, says writer Kyle VanHemert.
All 28 images can be seen by clicking the image below.
The latest images show a number of areas of the futuristic-looking corporate headquarters, including a donut-shaped main building – designed to promote collaboration among employees – lined with floor-to-ceiling concave glass walls, plenty of flora and fauna, and powered by renewable energy ("on-site fuel cell plants and rooftop photovoltaic arrays," says the Wired piece).
The latest renders show an underground auditorium (perhaps to host media events at product launches), a massive 90,000 square foot open-concept cafeteria that extends outside and a "Corporate Transit Center" bus depot to drop off and pick up employees.
There's also a concept of a subterranean tunnel that leads to a 2,000-space parking garage. Separate research and development facilities will be outside of the main four-story "spaceship" campus.
Renowned architect Norman Foster is at the helm of the ambitious project, but Jobs was "heavily involved" in the earlier stages, says Wired.
Posted by admin in : Computers and Internet, Local News and Events, News and politics, Online Community , add a comment
Tomorrow, January 18th, 2012, will be the largest internet protest in history. Thousands of sites across the internet, including some of the biggest in the world, will be blacking out and directing people to contact Congress to kill the web censorship bill, SOPA and PIPA.
We will be joining this blackout to support this cause.
Yugten
Posted by admin in : AT&T, Local News and Events, T-Mobile , add a comment
DALLAS–(BUSINESS WIRE)–AT&T Inc. (NYSE: T) said today that after a thorough review of options it has agreed with Deutsche Telekom AG to end its bid to acquire T-Mobile USA, which began in March of this year.
The actions by the Federal Communications Commission and the Department of Justice to block this transaction do not change the realities of the U.S. wireless industry. It is one of the most fiercely competitive industries in the world, with a mounting need for more spectrum that has not diminished and must be addressed immediately. The AT&T and T-Mobile USA combination would have offered an interim solution to this spectrum shortage. In the absence of such steps, customers will be harmed and needed investment will be stifled.
"AT&T will continue to be aggressive in leading the mobile Internet revolution," said Randall Stephenson, AT&T chairman and CEO. "Over the past four years we have invested more in our networks than any other U.S. company. As a result, today we deliver best-in-class mobile broadband speeds – connecting smartphones, tablets and emerging devices at a record pace – and we are well under way with our nationwide 4G LTE deployment.
"To meet the needs of our customers, we will continue to invest," Stephenson said. "However, adding capacity to meet these needs will require policymakers to do two things. First, in the near term, they should allow the free markets to work so that additional spectrum is available to meet the immediate needs of the U.S. wireless industry, including expeditiously approving our acquisition of unused Qualcomm spectrum currently pending before the FCC. Second, policymakers should enact legislation to meet our nation's longer-term spectrum needs.
"The mobile Internet is a dynamic industry that can be a critical driver in restoring American economic growth and job creation, but only if companies are allowed to react quickly to customer needs and market forces," Stephenson said.
To reflect the break-up considerations due Deutsche Telekom, AT&T will recognize a pretax accounting charge of $4 billion in the 4th quarter of 2011. Additionally, AT&T will enter a mutually beneficial roaming agreement with Deutsche Telekom.
Posted by admin in : Apple, iPhone, Local News and Events, News and politics , add a comment
By NED POTTER (@NedPotterABC) and COLLEEN CURRY
Oct. 5, 2011
Steve Jobs, the mastermind behind Apple's iPhone, iPad, iPod, iMac and iTunes, has died, Apple said. Jobs was 56.
Apple did not reveal where Jobs died or from what cause — though he has endured a battle with pancreatic cancer in recent years.
"We are deeply saddened to announce that Steve Jobs passed away today," read a statement by Apple's board of directors. "Steve's brilliance, passion and energy were the source of countless innovations that enrich and improve all of our lives. The world is immeasurably better because of Steve. His greatest love was for his wife, Laurene, and his family. Our hearts go out to them and to all who were touched by his extraordinary gifts."
The homepage of Apple's website this evening switched to a full-page image of Jobs with the text, "Steve Jobs 1955-2011."
Clicking on the image revealed the additional text: "Apple has lost a visionary and creative genius, and the world has lost an amazing human being. Those of us who have been fortunate enough to know and work with Steve have lost a dear friend and an inspiring mentor. Steve leaves behind a company that only he could have built, and his spirit will forever be the foundation of Apple."
Jobs co-founded Apple Computer in 1976 and, with his childhood friend Steve Wozniak, marketed what was considered the world's first personal computer, the Apple II.
Shortly after learning of Jobs' death, Wozniak told ABC News, "I'm shocked and disturbed."
Industry watchers called him a master innovator — perhaps on a par with Thomas Edison — changing the worlds of computing, recorded music and communications.
In 2004, he beat back an unusual form of pancreatic cancer, and in 2009 he was forced to get a liver transplant. After several years of failing health, Jobs announced on Aug. 24, 2011 that he was stepping down as Apple's chief executive.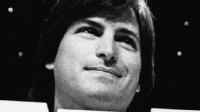 Steve Jobs in 60 Seconds Watch Video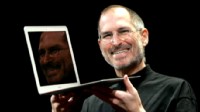 Steve Jobs: Ethics of a Private LifeWatch Video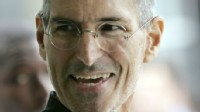 Jobs Resigns as the CEO of AppleWatch Video
"I have always said if there ever came a day when I could no longer meet my duties and expectations as Apple's CEO, I would be the first to let you know," Jobs wrote in his letter of resignation. "Unfortunately, that day has come."
Click Here for Pictures: Steve Jobs Through the Years
One of the world's most famous CEOs, Jobs remained stubbornly private about his personal life, refusing interviews and shielding his wife and their children from public view.
"He's never been a media person," said industry analyst Tim Bajarin, president of Creative Strategies, after Jobs resigned. "He's granted interviews in the context of product launches, when it benefits Apple, but you never see him talk about himself."
The highlights of Jobs's career trajectory are well-known: a prodigy who dropped out of Reed College in Oregon and, at 21, started Apple with Wozniak in his parents' garage. He was a multimillionaire by 25, appeared on the cover of Time magazine at 26, and was ousted at Apple at age 30, in 1984.
In the years that followed, he went into other businesses, founding NeXT computers and, in 1986, buying the computer graphics arm of Lucasfilm, Ltd., which became Pixar Animation Studios.
He was described as an exacting and sometimes fearsome leader, ordering up and rejecting multiple versions of new products until the final version was just right. He said the design and aesthetics of a device were as important as the hardware and software inside.
Click Here for Pictures: Apple's Iconic Products
In 1996, Apple, which had struggled without Jobs, brought him back by buying NeXT. He became CEO in 1997 and put the company on a remarkable upward path.
By 2001 the commercial music industry was on its knees because digital recordings, copied and shared online for free, made it unnecessary for millions of people to buy compact discs.
Jobs took advantage with the iPod — essentially a pocket-sized computer hard drive with elegantly simple controls and a set of white earbuds so that one could listen to the hours of music one saved on it. He set up the iTunes online music store, and persuaded major recording labels to sell songs for 99 cents each. No longer did people have to go out and buy a CD if they liked one song from it. They bought a digital file and stored it in their iPod.
In 2007, he transformed the cell phone. Apple's iPhone, with its iconic touch screen, was a handheld computer, music player, messaging device, digital wallet and — almost incidentally — cell phone. Major competitors, such as BlackBerry, Nokia and Motorola, struggled after it appeared.
By 2010, Apple's new iPad began to cannibalize its original business, the personal computer. The iPad was a sleek tablet computer with a touch screen and almost no physical buttons. It could be used for almost anything software designers could conceive, from watching movies to taking pictures to leafing through a virtual book.
Personal Life
Jobs kept a close cadre of friends, Bajarin said, including John Lasseter of Pixar and Larry Ellison of Oracle, but beyond that, shared very little of his personal life with anyone.
But that personal life — he was given up at birth for adoption, had an illegitimate child, was romantically linked with movie stars — was full of intrigue for his fan base and Apple consumers.
Jobs and his wife, Laurene Powell, were married in a small ceremony in Yosemite National Park in 1991, lived in Woodside, Calif., and had three children: Reed Paul, Erin Sienna and Eve.
He admitted that when he was 23, he had a child out of wedlock with his high school girlfriend, Chris Ann Brennan. Their daughter, Lisa Brennan Jobs, was born in 1978.
He had a biological sister, Mona Simpson, the author of such well-known books as "Anywhere But Here." But he did not meet Simpson until they were adults and he was seeking out his birth parents. Simpson later wrote a book based on their relationship. She called it "A Regular Guy."
Tony Avelar/AFP/Getty Images
Apple CEO and co-founder Steve Jobs shows off… View Full Size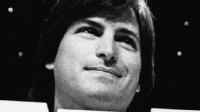 Steve Jobs in 60 Seconds Watch Video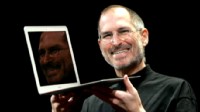 Steve Jobs: Ethics of a Private LifeWatch Video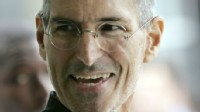 Jobs Resigns as the CEO of AppleWatch Video
Fortune magazine reported that Jobs denied paternity of Lisa for years, at one point swearing in a court document that he was infertile and could not have children. According to the report, Chris Ann Brennan collected welfare for a time to support the child until Jobs later acknowledged Lisa as his daughter.
There were other personal details that emerged over the years, as well.
At Reed, Jobs became romantically involved with the singer Joan Baez, according to Elizabeth Holmes, a friend and classmate. In "The Second Coming of Steve Jobs," Holmes tells biographer Alan Deutschman that Jobs broke up with his serious girlfriend to "begin an affair with the charismatic singer-activist." Holmes confirmed the details to ABC News.
Jobs' Health and Apple's Health
Enigmatic and charismatic, Jobs said little about himself. But then his body began to fail him.
In 2004, he was forced to say publicly he had a rare form of pancreatic cancer. In 2009, it was revealed that he had quietly gone to a Memphis hospital for a liver transplant.
He took three medical leaves from Apple. He did not share details.
In 2009, sources said, members of Apple's board of directors had to persuade him to disclose more about his health as "a fiduciary issue," interwoven with the health of the company.
He was listed in March as 109th on the Forbes list of the world's billionaires, with a net worth of about $8.3 billion. After selling Pixar animation studios to The Walt Disney Company in 2006, he became a Disney board member and the company's largest shareholder. Disney is the parent company of ABC News.
Analysts said Apple performed well during Jobs' absence, partly because he was available for big decisions and partly because his chief lieutenant, Tim Cook, was the hands-on manager even when Jobs was there.
The company has a history of bouncing back. In January 2009, after he announced his second medical leave, Apple stock dropped to $78.20 per share. But it quickly recovered and became one of the most successful stocks on Wall Street. On one day in the summer of 2011, with the stock hitting the $400 level, Apple briefly passed ExxonMobil as the world's most valuable company.
Posted by admin in : Alltel, AT&T, Local News and Events , add a comment
AT&T has completed its acquisition of select Alltel properties in Montana, Wyoming, Utah and Colorado. AT&T is working to integrate these properties to deliver on AT&T's commitment to provide the best possible experience and to help you connect with what matters most to you now, and in the years to come.
How is my service going to be impacted?
When your service transitions to AT&T, you can look forward to:
A better network
Your new AT&T coverage will be similar to Alltel's non-roaming coverage footprint and you will be on the network that covers over 97% of all Americans.
Keeping the important things you have today
In most cases, you'll be able to keep your current rate plan, features, and current phone number †.
A new phone or data device
AT&T will provide Alltel's individual and family plan customers with a new, FREE phone or data device comparable to the one they have today with no additional contract term required. You will also have the option of upgrading to the latest technology and the most innovative devices AT&T has to offer.
Prepaid customers will also have the opportunity to purchase new AT&T phones at deeply discounted prices and transfer their current account balance to their new AT&T GoPhone® prepaid plan account.
Find more information
This website contains important information for existing and new customers as well as answers to common questions you have about the merger.
About the merger with AT&T
Alltel in your area is now a part of AT&T
Learn more about the merger.
Information for New Customers
Find the perfect phone and plan with AT&T. Learn about the terrific deals now available to you.
Learn more about what is available to you.
Information for Existing Customers
Are you an Alltel customer with questions about how the merger affects you? Get answers and up-to-date information about how your service will be impacted.
Learn more about how the merger benefits you.
Transition Tips and Frequently Asked Questions
Get the latest updates related to your service transition, including key dates, important announcements, and tips on making your transition to AT&T easier. We have also compiled answers to the most frequently asked questions customers have about their service transition.
Learn more about your service transition.
For information on AT&T products and services go to att.com.
For information on AT&T's acquisition of Alltel click here.
To find an AT&T store near you view our store locator.
Posted by admin in : AT&T, Local News and Events, T-Mobile , add a comment
Watch this video.
For more information visit AT&T Careers.
Posted by admin in : Apple, Local News and Events, T-Mobile , add a comment
Yes it's true it happened yesterday as announced by our executives on a Sunday. AT&T Inc. has agreed to buy T-Mobile USA for $39 billion, but the deal isn't set to close until a year from now, and it will likely face tough regulatory scrutiny.
Here is the official announcement released by AT&T.
For more information, contact:
AT&T
Brad Burns: +1 (214) 757-7616
Brunswick Group
Mike Buckley: +1 (214) 757-7616
Steve Lipin: +1 (212) 333-3810
AT&T TO ACQUIRE T-MOBILE USA FROM DEUTSCHE TELEKOM
Provides fast, efficient and certain solution to impending spectrum exhaust challenges facing AT&T and T-Mobile
USA in key markets due to explosive demand for mobile broadband
Enhances network capacity, output and quality in near term for both companies' customers
AT&T commits to expand 4G LTE deployment to an additional 46.5 million Americans, including in rural, smaller
communities, for a total of 294 million or 95% of the U.S. population
Provides 4G LTE service for T-Mobile USA's 34 million subscribers
More than $8 billion in incremental infrastructure spend by a U.S. company over seven years, enabling nation's
high-tech industry, innovation and economic growth
Creates substantial value for AT&T shareholders through large, straightforward synergies
DALLAS, TEXAS AND BONN, GERMANY — March 20, 2011 — AT&T Inc. (NYSE: T) and Deutsche Telekom AG (FWB: DTE) today announced that they have entered into a definitive agreement under which AT&T will acquire T-Mobile USA from Deutsche Telekom in a cash-and-stock transaction currently valued at approximately $39 billion. The agreement has been approved by the Boards of Directors of both companies.
AT&T's acquisition of T-Mobile USA provides an optimal combination of network assets to add capacity sooner than any alternative, and it provides an opportunity to improve network quality in the near term for both companies' customers. In addition, it provides a fast, efficient and certain solution to the impending exhaustion of wireless spectrum in some markets, which limits both companies' ability to meet the ongoing explosive demand for mobile broadband.
With this transaction, AT&T commits to a significant expansion of robust 4G LTE (Long Term Evolution) deployment to 95 percent of the U.S. population to reach an additional 46.5 million Americans beyond current plans – including rural communities and small towns. This helps achieve the Federal CommunicationsCommission (FCC) and President Obama's goals to connect "every part of America to the digital age." T-Mobile
USA does not have a clear path to delivering LTE. "This transaction represents a major commitment to strengthen and expand critical infrastructure for our nation's
future," said Randall Stephenson, AT&T Chairman and CEO. "It will improve network quality, and it will bring advanced LTE capabilities to more than 294 million people. Mobile broadband networks drive economic opportunity everywhere, and they enable the expanding high-tech ecosystem that includes device makers, cloud and content providers, app developers, customers, and more. During the past few years, America's high-tech industry has delivered innovation at unprecedented speed, and this combination will accelerate its continued growth."
Stephenson continued,  "This transaction delivers significant customer, shareowner and public benefits that are available at this level only from the combination of these two companies with complementary network technologies, spectrum positions and operations. We are confident in our ability to execute a seamless integration, and with additional spectrum and network capabilities, we can better meet our customers' current demands, build for the future and help achieve the President's goals for a high-speed, wirelessly connected America."
Deutsche Telekom Chairman and CEO René Obermann said, "After evaluating strategic options for T-Mobile USA, I am confident that AT&T is the best partner for our customers, shareholders and the mobile broadband ecosystem. Our common network technology makes this a logical combination and provides an efficient path to gaining the spectrum and network assets needed to provide T-Mobile customers with 4G LTE and the best devices. Also, the transaction returns significant value to Deutsche Telekom shareholders and allows us to retain exposure to the U.S. market."
As part of the transaction, Deutsche Telekom will receive an equity stake in AT&T that, based on the terms of the agreement, would give Deutsche Telekom an ownership interest in AT&T of approximately 8 percent. A Deutsche Telekom representative will join the AT&T Board of Directors.
Competition and Pricing
The U.S. wireless industry is one of the most fiercely competitive markets in the world and will remain so after this deal. The U.S. is one of the few countries in the world where a large majority of consumers can choose from five or more wireless providers in their local market. For example, in 18 of the top 20 U.S. local markets, there are five or more providers. Local market competition is escalating among larger carriers, low-cost carriers and several regional wireless players with nationwide service plans. This intense competition is only increasing with the build-out of new 4G networks and the emergence of new market entrants.
The competitiveness of the market has directly benefited consumers. A 2010 report from the U.S. General Accounting Office (GAO) states the overall average price (adjusted for inflation) for wireless services declined 50 percent from 1999 to 2009, during a period which saw five major wireless mergers.
Addresses wireless spectrum challenges facing AT&T, T-Mobile USA, their customers, and U.S. policymakers
This transaction quickly provides the spectrum and network efficiencies necessary for AT&T to address impending spectrum exhaust in key markets driven by the exponential growth in mobile broadband traffic on its network. AT&T's mobile data traffic grew 8,000 percent over the past four years and by 2015 it is expected to be eight to 10 times what it was in 2010. Put another way, all of the mobile traffic volume AT&T carried during 2010 is estimated to be carried in just the first six to seven weeks of 2015. Because AT&T has led the U.S. in smartphones, tablets and e-readers – and as a result, mobile broadband – it requires additional spectrum before new spectrum will become available. In the long term, the entire industry will need additional spectrum to address the explosive growth in demand for mobile broadband.
Improves service quality for U.S. wireless customers
AT&T and T-Mobile USA customers will see service improvements – including improved voice quality – as a result of additional spectrum, increased cell tower density and broader network infrastructure. At closing, AT&T will immediately gain cell sites equivalent to what would have taken on average five years to build without the transaction, and double that in some markets. The combination will increase AT&T's network density by approximately 30 percent in some of its most populated areas, while avoiding the need to construct additional cell towers. This transaction will increase spectrum efficiency to increase capacity and output, which not only improves service, but is also the best way to ensure competitive prices and services in a market where demand is extremely high and spectrum is in short supply.
Expands 4G LTE deployment to 95 percent of U.S. population – urban and rural areas
This transaction will directly benefit an additional 46.5 million Americans – equivalent to the combined populations of the states of New York and Texas – who will, as a result of this combination, have access to AT&T's latest 4G LTE technology. In terms of area covered, the transaction enables 4G LTE deployment to an additional 1.2 million square miles, equivalent to 4.5 times the size of the state of Texas. Rural and smaller communities will substantially benefit from the expansion of 4G LTE deployment, increasing the competitiveness of the businesses and entrepreneurs in these areas.
Increases AT&T's investment in the U.S.
The acquisition will increase AT&T's infrastructure investment in the U.S. by more than $8 billion over seven years. Expansion of AT&T's 4G LTE network is an important foundation for the next wave of innovation and growth in mobile broadband, ensuring the U.S. continues to lead the world in wireless technology and availability. It makes T-Mobile USA, currently a German-owned U.S. telecom network, part of a U.S.-based company.
An impressive, combined workforce
Bringing AT&T and T-Mobile USA together will create an impressive workforce that is best positioned to compete in today's global economy. Post-closing, AT&T intends to tap into the significant knowledge and expertise held by employees of both AT&T and T-Mobile USA to succeed. AT&T is the only major U.S. wireless company with a union workforce, offering leading wages, benefits, training and development for employees. The combined company will continue to have a strong employee and operations base in the Seattle area.
Consistent with AT&T's track record of value-enhancing acquisitions
AT&T has a strong track record of executing value-enhancing acquisitions and expects to create substantial value for shareholders through large, straightforward synergies with a run rate of more than $3 billion, three years after closing onward (excluding integration costs). The value of the synergies is expected to exceed the purchase price of $39 billion. Revenue synergies come from opportunities to increase smartphone penetration and data average revenue per user, with cost savings coming from network efficiencies, subscriber and support savings, reduced churn and avoided capital and spectrum expenditures.
The transaction will enhance margin potential and improve the company's long-term revenue growth potential as it benefits from a more robust mobile broadband platform for new services.
Additional financial information
The $39 billion purchase price will include a cash payment of $25 billion with the balance to be paid using AT&T common stock, subject to adjustment. AT&T has the right to increase the cash portion of the purchase price by up to $4.2 billion with a corresponding reduction in the stock component, so long as Deutsche Telekom receives at least a 5 percent equity ownership interest in AT&T.
The number of AT&T shares issued will be based on the AT&T share price during the 30-day period prior to closing, subject to a 7.5 percent collar; there is a one-year lock-up period during which Deutsche Telekom cannot sell shares.
The cash portion of the purchase price will be financed with new debt and cash on AT&T's balance sheet. AT&T has an 18-month commitment for a one-year unsecured bridge term facility underwritten by J.P. Morgan for $20 billion. AT&T assumes no debt from T-Mobile USA or Deutsche Telekom and continues to have a strong balance sheet.
The transaction is expected to be earnings (excluding non-cash amortization and integration costs) accretive in the third year after closing. Pro-forma for 2010, this transaction increases AT&T's total wireless revenues from $58.5 billion to nearly $80 billion, and increases the percentage of AT&T's total revenues from wireless, wireline data and managed services to approximately 80 percent.
This transaction will allow for sufficient cash flow to support AT&T's dividend. AT&T has increased its dividend for 27 consecutive years, a matter decided by AT&T's Board of Directors.
Conditions
The acquisition is subject to regulatory approvals, a reverse breakup fee in certain circumstances, and other customary regulatory and other closing conditions. The transaction is expected to close in approximately 12 months.
Advisors
Greenhill & Co., J.P. Morgan and Evercore Partners acted as financial advisors and Sullivan & Cromwell LLP, Arnold & Porter, and Crowell & Moring provided legal advice to AT&T.
Conference Call/Webcast
On Monday, March 21, 2011, at 8 a.m. ET, AT&T Inc. will host a live video and audio webcast presentation regarding its announcement to acquire T-Mobile USA. Links to the webcast and accompanying documents will be available on AT&T's Investor Relations website. Please log in 15 minutes ahead of time to test your browser and register for the call.
For dial-in access, please dial +1 (888) 517-2464 within the U.S. or +1 (630) 827-6816 outside the U.S. after 7:30 a.m. ET. Enter passcode 8442095# to join or ask the conference call operator for the AT&T Investor Relations event.
The webcast will be available for replay on AT&T's Investor Relations website on March 21, 2011, starting at 12:30 p.m. ET through April 21, 2011. An archive of the conference call will also be available during this time period. To access the recording, please dial +1 (877) 870-5176 within the U.S. or +1 (858) 384-5517 outside the U.S. and enter reservation code 29362481#.
Transaction Website
For more information on the transaction, including background information and factsheets, visit www.MobilizeEverything.com.
About AT&T
AT&T Inc. (NYSE:T) is a premier communications holding company. Its subsidiaries and affiliates – AT&T operating companies – are the providers of AT&T services in the United States and around the world. With a powerful array of network resources that includes the nation's fastest mobile broadband network, AT&T is a leading provider of wireless, Wi-Fi, high speed Internet, voice and cloud-based services. A leader in mobile broadband and emerging 4G capabilities, AT&T also offers the best wireless coverage worldwide of any U.S. carrier, offering the most wireless phones that work in the most countries. It also offers advanced TV services under the AT&T U-verse® and AT&T │DIRECTV brands. The company's suite of IP-based business communications services is one of the most advanced in the world. In domestic markets, AT&T Advertising Solutions and AT&T Interactive are known for their leadership in local search and advertising.
Additional information about AT&T Inc. and the products and services provided by AT&T subsidiaries and affiliates is available at http://www.att.com. This AT&T news release and other announcements are available at http://www.att.com/newsroom and as part of an RSS feed at www.att.com/RSS. Or follow our news at @ATT.
About Deutsche Telekom
Deutsche Telekom is one of the world's leading integrated telecommunications companies with around 129 million mobile customers, approximately 36 million fixed-network lines and more than 16 million broadband lines (as of December 31, 2010). The Group provides products and services for the fixed network, mobile communications, the Internet and IPTV for consumers, and ICT solutions for business customers and corporate customers. Deutsche Telekom is present in over 50 countries and has around 247,000 employees worldwide. The Group generated revenues of EUR 62.4 billion in the 2010 financial year – more than half of it outside Germany (as of December 31, 2010).
About T-Mobile USA
Based in Bellevue, Wash., T-Mobile USA, Inc. is the U.S. wireless operation of Deutsche Telekom AG. By the end of the fourth quarter of 2010, approximately 129 million mobile customers were served by the mobile communication segments of the Deutsche Telekom group – 33.7 million by T-Mobile USA – all via GSM and UMTS, the world's most widely used digital wireless standards. Today, T-Mobile operates America's largest 4G network, and is delivering a compelling 4G experience across a broad lineup of leading devices in more places than competing 4G services. T-Mobile USA's innovative wireless products and services empower and enable people to stay connected and productive while mobile. Multiple independent research studies continue to rank T-Mobile USA as a leader in customer care and customer satisfaction. For more information, please visit http://www.T-Mobile.com. T-Mobile is a federally registered trademark of Deutsche Telekom AG. For further information on Deutsche Telekom, please visit www.telekom.de/investor-relations.
Cautionary Language Concerning Forward-Looking Statements
Information set forth in this news release contains financial estimates and other forward-looking statements that are subject to risks and uncertainties, and actual results may differ materially. In addition to these factors, there are risks and uncertainties associated with the T-Mobile business, the pendency of the T-Mobile acquisition and the ability to realize the benefits of the integration of the T-Mobile business. A discussion of factors that may affect future results is contained in AT&T's filings with the Securities and Exchange Commission. AT&T disclaims any obligation to update or revise statements contained in this news release based on new information or otherwise. This news release may contain certain non-GAAP financial measures. Reconciliations between the non-GAAP financial measures and the GAAP financial measures are available on the company's website at www.att.com/investor.relations.
© 2011 AT&T Intellectual Property. All rights reserved. Mobile broadband not available in all areas. AT&T, the AT&T logo and all other marks contained herein are trademarks of AT&T Intellectual Property and/or AT&T affiliated companies.
Related Articles
Posted by admin in : Apple, Local News and Events , add a comment
Steve Jobs said:
"They're doing pretty good in some ways and in others they could do better. We meet with them once a quarter. Remember, they deal with way more data traffic than anyone else. And they're having trouble. But they have the fastest 3G network , and they're improving. I wish they were improving faster. I'm convinced that any other network, had you put the iPhone on it, would have had the same problems."
Posted by admin in : Local News and Events , add a comment
by David Goldman
Friday, May 28, 2010
It's that time of year again: The weather is getting warmer, Apple's (Nasdaq: AAPL -News) annual Worldwide Developers Conference is just around the corner, and rumors about the iPhone coming to Verizon (NYSE: VZ – News) are sprouting up.
Don't believe it, Verizon fans. It's unlikely that Steve Jobs will announce a Verizon tie-up when he gets on stage at the WWDC event on June 7.
The rumors have been swirling around for years because an Apple-Verizon partnership seems to make sense for both parties.
The top reason consumers who are in the market for an iPhone decide to pass is AT&T's (NYSE: T- News) 3G network problems, which are notorious in New York and San Francisco, according to a CFI Group study. Meanwhile, Verizon has built up its reputation as the "most reliable network." Also, Verizon's 93 million wireless customers would present a huge opportunity for Apple to grow its customer base.
Yet there are some fundamental reasons why a deal isn't imminent.
Different Networks
Verizon's network runs on a wireless standard called CDMA, which is incompatible with AT&T's GSM network. It's not impossible to offer phones on both networks — Research In Motion(Nasdaq: RIMM – News) sells BlackBerry phones on every major U.S. network. But it wouldn't necessarily make economic sense for Apple.
For one, Apple has proudly advertised that consumers can make calls and surf the Web simultaneously on the iPhone, but Verizon's CDMA network can't support that feature.
Secondly, Verizon is set to roll out its 4G network later this year, and AT&T will unveil its 4G network in 2011. Those networks will be on a new universal, global standard called LTE, making a 4G/LTE iPhone much more cost-effective for Apple and easier to sell around the world. That would make next year or even 2012 a more likely timeframe for debuting a Verizon iPhone.
And suppliers haven't given any indication that Apple is building a CDMA phone, according to Jagdish Rebello, principal analyst of communication systems at iSuppli.
AT&T's Exclusivity Contract
Apple has a five-year exclusivity deal with AT&T, according to court documents, making it unlikely that the iPhone could come to Verizon before 2012.
Many analysts said nothing is set in stone and speculated that the terms could have been renegotiated.
"No one has a good handle on how long that exclusivity deal runs, but those contracts usually last 90 days to six months," said Josh King, general counsel at Avvo.com and former senior corporate development executive at AT&T Wireless.
But one big indication that AT&T's contract will continue for a while is its sweet 3G pricing deal for the iPad.
AT&T offers unlimited 3G access for the iPad on a contract-free basis for an average of about $22 a month. Because those sales only account for 15% of AT&T's data revenue, according to data tracker Trefis, it may be part of a bigger strategy.
"There is speculation that AT&T is offering attractively priced 3G data plans … as part of a broader deal with Apple to maintain iPhone exclusivity for longer than the original agreement," Trefis said in a recent analyst note.
"AT&T is our exclusive partner in the U.S. and we're very happy with that," said an Apple spokeswoman but she would not comment on Apple's plans to sell the iPhone on other carriers.
Verizon Might Not Want the iPhone
When Apple was searching for a network to carry its iPhone in 2007, Verizon was widely reported to have balked at Apple's demands to take a share of the company's revenue.
Verizon said it would be able to handle the iPhone on its network, but wouldn't comment on its interest in carrying the iPhone specifically.
"The Verizon Wireless network is optimized for maximum efficiencies and … we can mange the growth," a Verizon spokeswoman said. "We pride ourselves on having an array of smart phones on several different operating systems."
Recently, Verizon appears to be shrugging off the iPhone by going all-in with Google(Nasdaq: GOOG – News). Verizon's past two flagship phones have been Google Android-based phones, and the company is working with Google to launch a tablet to compete with Apple's iPad.
Verizon also couldn't have made Apple too happy after launching a scathing "iDon't, Droid Does" campaign, in which the company went after all of the iPhone's deficiencies. And in a separate campaign, Verizon poked fun at Apple's "there's an app for that" slogan when it went after AT&T's 3G network with its "there's a map for that" ad.
"There's a lot for Verizon to consider, including revenue sharing and how much the iPhone would fit in with what the company is doing now," said Ramon Lamas, mobile device analyst at IDC. "But right now, they're all about Google."
Copyrighted, CNNMoney. All Rights Reserved.
Posted by admin in : Local News and Events , add a comment
by Lupita Murillo

Crime fighting goes high tech .
Recently, the Pima County Sheriff's Department issued iPhones to all 132 detectives. Now they're able to access criminal information from the palm of their hand.
Det. Derek Ogden works night detectives, and he spends part of his time in an unmarked sheriff's car investigating crimes. So the latest crime fighting tool he carries is an I-phone.
"It's a very valuable tool, it allows us internet access, mapping program, Cop Link, all different kinds of things really useful when we we're out in the field," says Det. Ogden.
Det. Renee Hesser is assigned to the domestic violence unit. At her desk and at her fingertips she can access Cop Link, the Google for law enforcement, now when she's out in the field, she'll be able to do the same.
Det. Hesser says you can push the mug shot button on the screen, three mug shots show up. It also shows previous arrests, which agency made the arrest in Pima County. It also shows the docket numbers, the dates, the addresses where the arrests took place.
"We can then use that information to try and locate these people when we are in middle of an investigation and we don't have time to go back and sit in a computer in the office so that's where its really going to come in handy," says Det. Hesser.
Officials say the sheriff's office probably has the lowest ratio of officers per population than any other agency in the state. That's why they are relying on technology like this to fill in the gap.
Lt. Jim Berry says, "We're trying to use technology to try and make our department more efficient and more responsible to the public and provide a level of service that is equal to or better than other agencies that have a much higher ratio of officers to population."
Saving time, and arresting criminals quicker. The iPhones were purchased through Homeland Security funds.